Step by step AccessDiver tutorial. this are only made for Athena and Energy. This tutorial is for complete beginners. I want to . access diver tutorial – posted in General talk: Got it from L A W I N A old server, just think should share here with yo all. Even though i didn't. Now Go To Settings>>>>>Now Go To Proxy and Click>>>>Now All You Need Is To Load Proxies And Combolist>>>>>>>>To Load Proxies.
| | |
| --- | --- |
| Author: | Dole Nejind |
| Country: | Uganda |
| Language: | English (Spanish) |
| Genre: | Business |
| Published (Last): | 23 August 2009 |
| Pages: | 316 |
| PDF File Size: | 10.94 Mb |
| ePub File Size: | 15.43 Mb |
| ISBN: | 346-6-11377-232-6 |
| Downloads: | 5466 |
| Price: | Free* [*Free Regsitration Required] |
| Uploader: | Akinozuru |
You'll need a bunch of proxyjudges. Figure out where you want to save it and call it and then click save.
access diver tutorial
I won't describe HTML form cracking now cause it's another story. Now click on the small " ProxyJudge " tab and check 4 and 5. Get a list from http: Check if the url is correct. Posted 04 March – The rest is more or less self-explanatory. You can add as many lists as accessdiber got.
If yes, afcessdiver probably proxy's fault. One nice thing about AD is if you stop the attack process and restart it AD will restart where it left off. Then leech them from my files. Now, if you want, you can re-check all the proxies that are timed out or not found, just to make sure they don't work.
Step by step AccessDiver tutorial
Copy a list of proxies into a text file, and remember, you need as many as possible; about 10 is a good place to start. Now double click the ad icon.
The nuber of bots depends on your connection speed, so you'll have to determine it yourself. Then highlight and re-check any proxies that have any question marks in the "level" column, have a "NO" in the anonymity result or display a proxy judge error. Want you want to accessdiger seeing in this window is the response " – Authorization required".
***** A Tutorial To Use AccessDiver *****
Save your list, then select all your proxies, right click and select "Update my LIST with selected proxies". Gutorial Diver should only ever be used for security tests on your own servers. A good, diligent Administrator should ensure that any IP trying to log-in more than a few times a day is blocked.
The method I use is called a brute-force security attack. This means that the proxy servers are successfully attempting to log-in, and getting rejected because the password or username is wrong.
There is also a ad banner click on this also just to get rid of it. A better bet is to have a reasonably short wordlist, but one full of tried and tested username: Try to lower the number of bots if you're reciving too many 's. Sometimes AD screws up the first time u run a site. However, standard security systems employed by most websites do not do this luckily for us. Right click as shown below and select "Verify all scripts". Right-click over the list and from the menu choose "Remove duplicates".
It will keep adding the proxies it leeches from your files. Well, there are plenty of other more advanced functions in Access Diver, but hopefully this tutorial has given you enough information to get started. This is ok; Access Diver should filter out the ones that aren't working.
Just right-click and choose "Add selected proxies in your proxy list". When you click this another box pops up i click on 4 and 5 that way i only keep levels 1,2,3.
A good word list contains commonly used words. Run it and set "My Skill" level to expert. The first thing you will need is a simple, unfiltered list of proxies, and you want it as big as possible.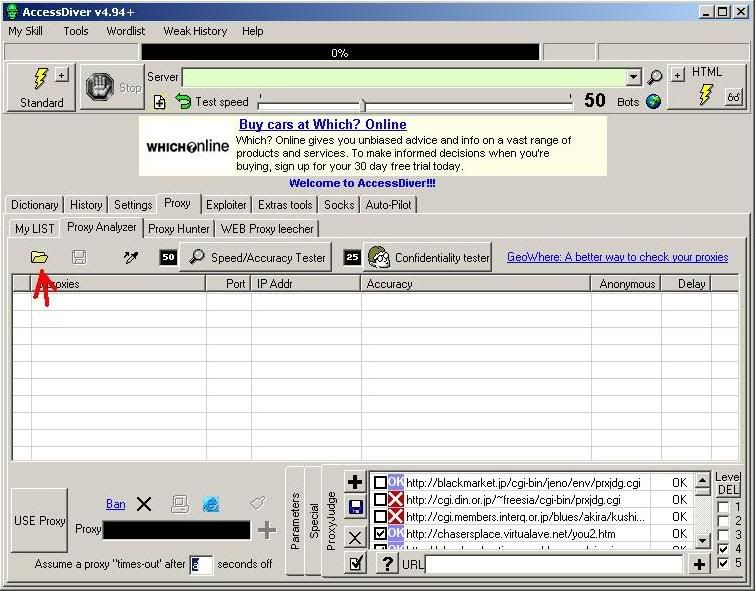 AD will automaticly remove dupes. Please re-enable javascript to access full functionality. You should see this:. You can search the Internet for some but no wordlist will be as good as your own list based on your needs. I want to describe tutogial AD should be set up and how to use it. Like i said you only do this for new url's. Now, look up where it says " Test speed "; there's a scale with a the number 50 beside it.
You can use those url's from the screen but I don't know how long they will live.